Vayr Comby
The Vayr Comby is a versatile MANUAL heat press for fast and precise application of heat applied products.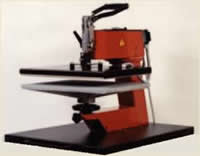 Features
Standard 38cm x 45cm Heat and base plate
Temperature control up to 250'C
Electronic timer with bell
Adjustable pressure control
Swivel heat plate for easier working conditions
Weight of heat press 50kg
No external compressor required
Optional Accessories
Changeable plates for alternate applications
25cm x 35cm base plate for small shirts and jerseys
10cm x 45cm sleeve plate for sleeve and pant legs
14cm x 16cm heat plate and base plate for pocket and sleeves

V7 Comby
The V7 is an automatic hydraulic heat press with two base tables. For those businesses with high levels of production the V7 is ideal.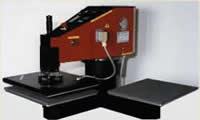 Features
Two 38cm x 45cm Heat and base plate
Temperature control up to 250'C
Double button safety operation control
Electronic timer with automatic opening of press
Adjustable pressure control
Swivel heat plate for easier working conditions
No external compressor required
Optional Accessories
Changeable plates for alternate applications
25cm x 35cm base plate for small shirts and jerseys
10cm x 45cm sleeve plate for sleeve and pant legs
14cm x 16cm heat plate and base plate for pocket and sleeves